Welcome to The Long Island Dahlia Society's Website!

Events
---
Upcoming Events
Membership Meeting
Thursday, April 19, 2018
6:30 PM
Tuber Sale - No Dahlia 101
A wide selection of tubers are available for sale. Bring your dahlia questions!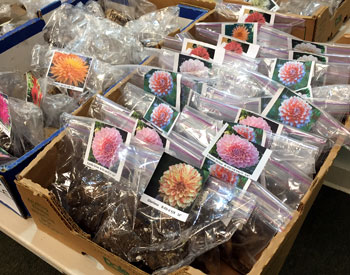 Congratulations to our Irish Soda Bread Winners!

There was a tie, a recount confirmed the tie, so congratulations are in order to both Dee Cunningham and Rosa Petrozella! Thanks to all members who brought entries, looking forward to next year's competition.
---
Year Round
Saturday Mornings at the William Wolkoff Garden
Each Saturday during the dahlia season (typically late March to November, unless otherwise notified) our volunteers meet at 9:00 AM at the William Wolkoff Dahlia Garden in Bayard Cutting Arboretum.
Under the leadership of the Garden Director Joe Lysik, our volunteers support the garden by preparing the tubers for planting, maintaining the garden during the bloom times, through the digging up the tubers at the end of season, this is a hands-on learning experience, all are welcome.
Work in the garden is followed by coffee and cake at 11:00 am.
---