President's Message - A Really Great Show!
by Joe Laundrie
Our first show of the season was a HUGE success on many levels. First, a big thank you to all the LIDS volunteers who helped setup, and then provided all of the needed work to ensure the show ran smoothly. We were able to break down in record time; we were done at 5:30! Thank you to all volunteers who worked so hard; without you all we would not have had a show.
Second, the show was filled with beautiful flowers from growers who have competed for years and with blooms from many newcomers, what a sight to see all of your beautiful dahlias that filled the Carriage House, we had so many complements, it was stunning. And LIDS members did very well in the awards category too!
If you have not been down to the Wolkoff Garden recently, COME ON DOWN! It is amazing and with the expansion of the garden and all of the dedication to the dahlias, the colors are stunning and only get better as fall approaches.

Our next dahlia show is in October and will be held along with the LIDS Photo Competition. I urge all of you with a camera to point it at dahlias and click away. You will find details on the Photo Competition on our website or printed at the Wolkoff Garden.
I am looking forward to seeing you at our next meeting Thursday, September 18. - Joe

General Meeting
Thursday, September 18, 2014, 7:00 PM
Carriage House, Bayard Cutting Arboretum

LIDS 2014 Photo Show!
By Dee Cunningham
It's time to dust off those cameras! Though October seems far away, the Long Island Dahlia Society's Annual Photo Competition and Display is fast approaching. The Wolkoff Garden at the Bayard Cutting Arboretum is in full bloom already so come on down and click away. You can take pictures of your own dahlia blooms too!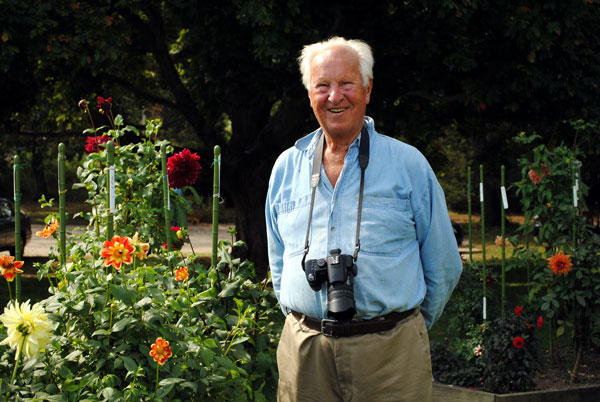 Bayard Cutting Arboretum Fall Festival
September 27 and 28, 2014
We need volunteers to schmooze with Garden visitors, assist with our flower demo and hang out at the LIDS tent. Free admission, coffee, lunch and enjoy the Fest. Light duties and a fun day ask anyone who has been there. Full and half day volunteer slots. See Maureen, email maburf@yahoo.com or sign up at the September Meeting.

Dues will be due in September
In accordance with the decision taken last year by the Board and Membership, LIDS annual $20.00 dues will be due in September. Dues may be paid directly to Millie Canzoneri or by mail at LIDS, PO Box 76, West Sayville, NY 11796. Please take time to let us know if your address, telephone number, internet service provider or email address has changed.

Saturday Mornings at the William Wolkoff Garden
Each Saturday during the dahlia season (typically late March to November, unless otherwise notified) our volunteers meet at 9:00 AM at the William Wolkoff Dahlia Garden in Bayard Cutting Arboretum.
Under the leadership of the Garden Director Joe Lysik, our volunteers support the garden by preparing the tubers for planting, maintaining the garden during the bloom times, through the digging up the tubers at the end of season, this is a hands-on learning experience, all are welcome. Work in the garden is followed by coffee and cake at 11:00 AM.

Monthly Meetings
Meetings are held year round, on the third Thursday of the month at the Bayard Cutting Arboretum, located at:
440 Montauk Highway
Great River, NY 11739
Set GPS to these either address: Great River Rd & NY-27A (Montauk Hwy), or
NY-27A & Union Blvd, East Islip NY 11730
www.bayardcuttingarboretum.com

LIDS 2014 Calendar!
The full 2014 LIDS Calendar of Events has been published and
available online at www.longislanddahlia.org/calendar-of-events.asp

Membership
LIDS dues are $20.
You can pay your dues at monthly meetings or mail a check to:
LIDS
P.O. Box 76
West Sayville, NY 11796
New members receive a subscription to our monthly e-newsletter and
three (3) free tubers in when they available in the spring.

LIDS Dahlia Shows
Dahlia growers, whether expert or novice come from all points of New York, New Jersey, Connecticut, Massachusetts and even Rhode Island to display their gardening achievements, hoping to reach the prestigious Court of Honor. Because the cooler weather brings out their vibrant colors, these regional shows are held in September and October when Dahlias are at their peak. The shows are held in the lower level of the Carriage House at the Bayard Cutting Arboretum in August and October of this year. See the calendar for dates.

Resource Links
Bayard Cutting Arboretum Horticultural Society

Executive Board
President - Joe Laundrie
Vice-President - Maureen Burford
Treasurer - Joe Lysik
Website Director - Carol Jansch
Recording Secretary - Dee Cunningham
Hospitality - Patrick Schildt
Membership - Millie Canzoneri
Fundraising Chair - Kelly Abercrombie
Corresponding Secretary/Newsletter - Carol Jansch
Garden Director - Joe Lysik
Associate Garden Directors -
John Canzoneri, Ted Gollatz, Gene Murtha, Mike Kehl and Lenny Nicolosi
NADC Representatives - Joe Laundrie / Jim Micheels
ADS Representative - William Bushman
Show Chairperson - Joe Laundrie
Evaluation - Dennis Kirchner
Wolkoff Dahlia Garden Design - William Wolkoff