President's Message - Digging and Dreaming!
by Joe Laundrie
Now is the time to dig up your dahlias and cure them for winter storage. The education session at this month's meeting will review how to do just that. Please join us and bring your questions, we are all here to help. Now is also the time to start planning your garden for next year. Do you want to expand it? What are your favorite dahlias,? Are you adding new ones? Most of the large retail dahlia providers (such as Swan Island) are showing the 2015 hybrids and taking orders. So dig and dream! Thanks to all the volunteers who have been down digging and preparing our thousand + tubers for winter, we could not do it without you!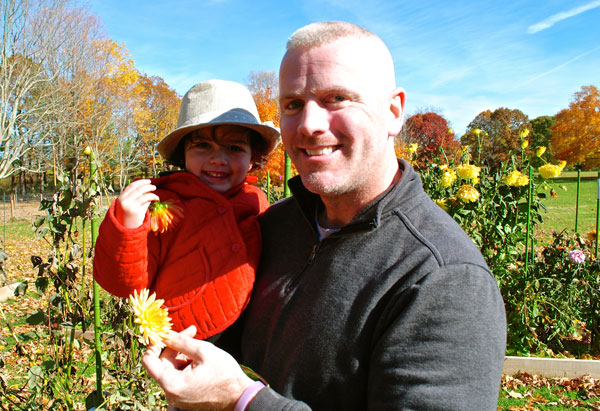 Next General Membership Meeting
Thursday, November 20, 2014 7:00 PM
Upper Carriage House, Bayard Cutting Arboretum
Dahlia 101 followed by Coffee & Cake

LIDS 2014 Photo Competition Results and Winner List
by Dee Cunningham
The Long Island Dahlia Society's Annual Photo Competition and Display was held again this year. Participants were limited to a maximum of eight entries, and all toll, 208 entries were registered, judged and displayed. Many newcomers entered for the first time and were pleasantly surprised when they learned they had won first, second, third place or honorable mention. It was raining for part of Saturday which limited the public from viewing the display; however, Sunday was a beautiful day that saw people coming in in great numbers to see "Dahlias Through the Camera's Lens!" Kudos and much gratitude go to Gene, Trudy, Andrew, Suzann, Carol and Maureen for all the effort they extended to make this Show the success it was. What a team! Without each and every one, this Show would have been almost impossible to undertake. Can't wait for next year!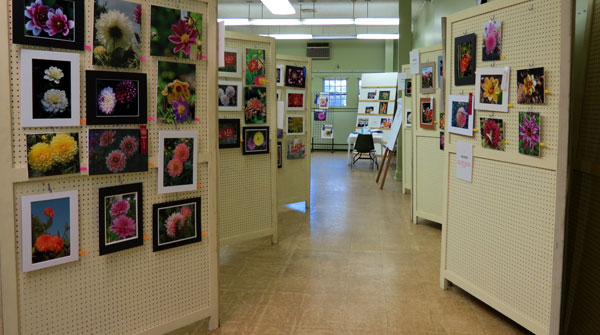 2014 Photo Contest Best in Show!
The "best in show" photograph shown below was a macro taken by Tiqvah Terroade's, thank you Tiqvah for allowing us to reproduce your photo here. This is the second year in a row she has won "best in show," congratulations!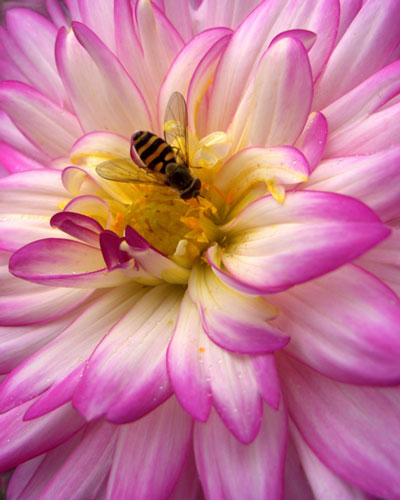 2014 Photo Contest Winner List
BEST IN SHOW
Macro: Tiqvah Terroade
BEGINNER: CLASS #1 DAHLIA PORTRAIT
First: Diane Newton
Second: Josie Antonio
Third: Amanda Camps
Honorable Mention: Barbara Ross
CLASS #2 TWO OR MORE DAHLIA BLOOMS
First: David Friedman
Second: Frankie Dioguardi
Third: Sarah Varghese
Honorable Mention: Amanda Camps
CLASS #3 MACRO/ARTISTIC IMPRESSION
First: Laura Star
Second: Frankie Diguardi
Third: Josie Antonio
CLASS #4 DAHLIAS W/PEOPLE,INSECTS, ACTIVITY, ETC
First: Barbara Ross
Second: Lenny Nicolosi
Third: Barbara Ross
Honorable Mention: David Friedman
ADVANCED: CLASS #1 DAHLIA PORTRAITS
First: Kathleen Picarelli
Second: Peter Esser
Third: Bob Labuski
CLASS #2 TWO OR MORE DAHLIA BLOOMS
First: Kathleen Picarelli
Second: Peter Esser
Third: Christine Catalano
Honorable Mention: Donald Thiergard
CLASS #3 MACRO/ ARTISTIC IMPRESSION
First: Jeanne Murphy
Second: Donald Thiergard
Third: Steven Kessler
CLASS #4 DAHLIAS W/PEOPLE, INSECTS, ACTIVITY, ETC
First: Ann Jacobson
Second: Joan Stracquadaini
Third: Bob Labuski

Volunteers in Action - Work Day in the Wolkoff Garden - Photographs
Take a look at the new photos posted in the Photo Gallery from Saturday, November 8, 2014.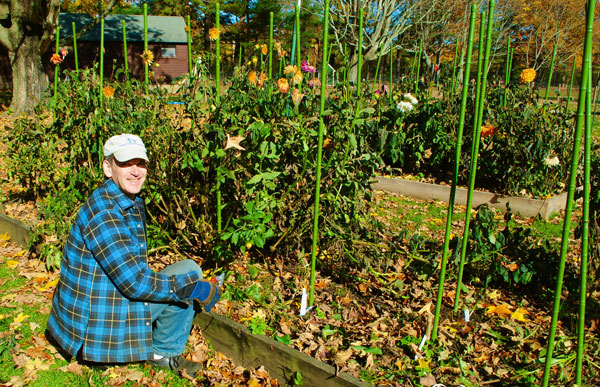 LIDS 2nd Show Dahlia Show - Photographs
Jim Teeple took a variety of photos and they are now posted in the Photo Gallery. Thank you Jim, great job!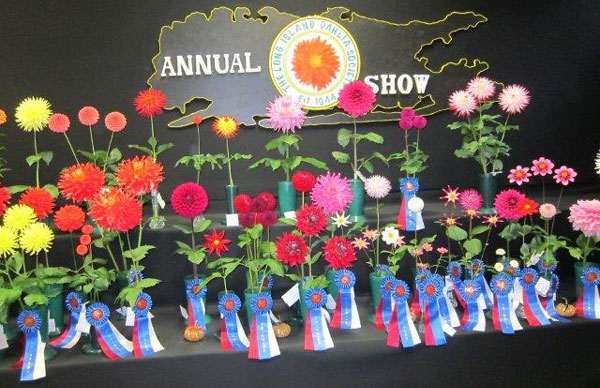 LIDS Holiday Party
Our annual holiday party will be held on Thursday, December 18, 2014
Upper Carriage House, Bayard Cutting Arboretum
Setup time and start of party time will be announced,
check the website in early December
Volunteers to help with the set-up and clean-up can sign up
at the November meeting, see Patrick Schlidt.

Fundraising News
My appreciation to all the volunteers that gave their time at all the fundraiser events this year. You did an excellent job!
With gratitude - Fund Raiser Chairperson, Kelly Abercrombie

LIDS 2015 Membership Dues – Now overdue!
2015 Long Island Dahlia Society membership - $20 per family.
2015 American Dahlia Society membership:
$24 per person (includes one (1) copy of the ADS Dahlia Guide) or
$27 per family (includes two (2) copies of the ADS Dahlia Guide).
Please make out check to "LIDS"
Give your check to Millie Canzoneri, Membership Chair, or
Pay by Mail to LIDS, PO Box 76, West Sayville, NY 11796.
Changes to your address, telephone number, or e-mail address? Please include with your dues.

Saturday Mornings at the William Wolkoff Garden
Each Saturday during the dahlia season (typically late March to November, unless otherwise notified) our volunteers meet at 9:00 AM at the William Wolkoff Dahlia Garden in Bayard Cutting Arboretum.
Under the leadership of the Garden Director Joe Lysik, our volunteers support the garden by preparing the tubers for planting, maintaining the garden during the bloom times, through the digging up the tubers at the end of season, this is a hands-on learning experience, all are welcome. Work in the garden is followed by coffee and cake at 11:00 AM.

Monthly Meetings
Meetings are held year round, on the third Thursday of the month at the Bayard Cutting Arboretum, located at:
440 Montauk Highway
Great River, NY 11739
Set GPS to these either address: Great River Rd & NY-27A (Montauk Hwy), or
NY-27A & Union Blvd, East Islip NY 11730
www.bayardcuttingarboretum.com

LIDS 2014 Calendar!
The full 2014 LIDS Calendar of Events has been published and
available online at www.longislanddahlia.org/calendar-of-events.asp

Membership
LIDS dues are $20.
You can pay your dues at monthly meetings or mail a check to:
LIDS
P.O. Box 76
West Sayville, NY 11796
New members receive a subscription to our monthly e-newsletter and
three (3) free tubers in when they available in the spring.

LIDS Dahlia Shows
Dahlia growers, whether expert or novice come from all points of New York, New Jersey, Connecticut, Massachusetts and even Rhode Island to display their gardening achievements, hoping to reach the prestigious Court of Honor. Because the cooler weather brings out their vibrant colors, these regional shows are held in September and October when Dahlias are at their peak. The shows are held in the lower level of the Carriage House at the Bayard Cutting Arboretum in August and October of this year. See the calendar for dates.

Resource Links
Bayard Cutting Arboretum Horticultural Society

Executive Board
President - Joe Laundrie
Vice-President - Maureen Burford
Treasurer - Joe Lysik
Website Director - Carol Jansch
Recording Secretary - Dee Cunningham
Hospitality - Patrick Schildt
Membership - Millie Canzoneri
Fundraising Chair - Kelly Abercrombie
Corresponding Secretary/Newsletter - Carol Jansch
Garden Director - Joe Lysik
Associate Garden Directors -
John Canzoneri, Ted Gollatz, Gene Murtha, Mike Kehl and Lenny Nicolosi
NADC Representatives - Joe Laundrie / Jim Micheels
ADS Representative - William Bushman
Show Chairperson - Joe Laundrie
Evaluation - Dennis Kirchner
Wolkoff Dahlia Garden Design - William Wolkoff