LIDS 2016 Membership Dues - It's Time!
Long Island Dahlia Society dues are due, the cost is $20.
Optionally you may also join the American Dahlia Society (ADS), dues are also payable at this time:
ADS Individual $24 (includes one (1) classification book and the four (4) quarterlies)
OR
ADS Dual - Two (2) memberships to a single address $27 (includes two (2) classification books and the four (4) quarterlies)
You can pay in person by cash or check at our next meeting
on Thursday, October 15, 2015
Or pay by mail by sending a check to:
LIDS
P.O. Box 66
West Sayville, NY 11796
Make all checks (including those with ADS membership)
payable to "Long Island Dahlia Society"

LIDS Second Dahlia Show - Lower Carriage House
Dahlia Show Schedule (Public)
Saturday, October 10
Open to public after judging, from 1:00 PM – 5:00 PM
Sunday, October 11
10 AM – 4 PM, flower fundraiser at 4PM
----------------------------------
Dahlia Show Schedule (Volunteers)
Thursday October 8, 4:00 PM – 7:00 PM
Friday, October 9, 1:00 PM – 9:00 PM
Saturday, October 10, 6:30 AM – 4:00 PM
Sunday, October 11, 10:00 AM – 4:00 PM
"Many hands make light work."
Contact Joe Laundrie for additional information

General Membership Meeting
Thursday, October 15
6:30 PM
East Islip Public Library
Dahlia 101 – "How to dig up and store tubers over the winter."
Questions? Call 631-581-2489

Saturdays in the Garden
Watch for frost!
It's all about the weather, once frost hits, the dahlia above ground season ends, however...
We are continuing to meet on Saturday mornings, starting at 9:00 AM throughout the fall. Tasks will include garden maintenance and clean-up, digging up the tubers - a.k.a "The Big Dig".
We will also be sorting, labeling, and storing the tubers.
This is a great opportunity for "hands-on" dahlia education.
Questions? Contact Garden Director Joe Lysik at joelysik@yahoo.com

IN BIG "AA" DAHLIA NEWS
2015 ADS Centennial Show Results
Our own Joe Lysik took the top "King of Show" honor at the ADS Show, this is in addition to Joe's multiple awards on the ADS Court of Honor. Congratulations Joe!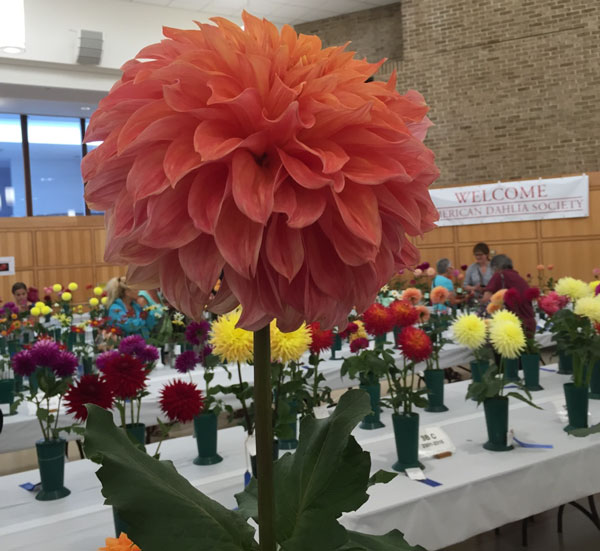 Above: Clyde's Choice, Best AA "King of Show", Joe Lysik

President's Message - John Canzoneri
We are very proud of of MIDS and the show they put on at Hofstra. This was one of the best shows we have ever seen. Dahlia growers came from near and far and were thrilled with our garden. I want to thank all the MIDS vistors that toured the garden, and a big thank you to all the LIDS volunteers for all the hard work they put in.

A Message from the Mid Island Dahlia Society
ADS Centennial Show Results:
A BIG THANK YOU to everyone who participated in and helped make the American Dahlia Society Centennial celebration and the Mid Island Dahlia Society's 50th anniversary such a wonderful success.
Starting with the fabulous boat ride to New York City, the tours to Long Island mansions and gardens, the enormous flower show with over 2000 blooms, the wonderful dinner with so many flower friends, horse racing, and a beautiful afternoon at the William Wolkoff garden and picnic with the best steak prepared by Joe Laundrie and team - "wow" this was an event we can all be proud of – we did an excellent job representing Long Island and should all be extremely proud.
If you are interested in seeing the awards recognized on the head table or Court of Honor, and a large collection of photographs taken by Barbara Schmidt, please go to the show web site:
Again, thank you - The MIDS Show Planning Committee

2016 ADS Show
The 2016 ADS Show will be held in Ashville, NC and hosted by the Carolinas Dahlia Society. Check their website for additional information. http://www.carolinasdahliasociety.org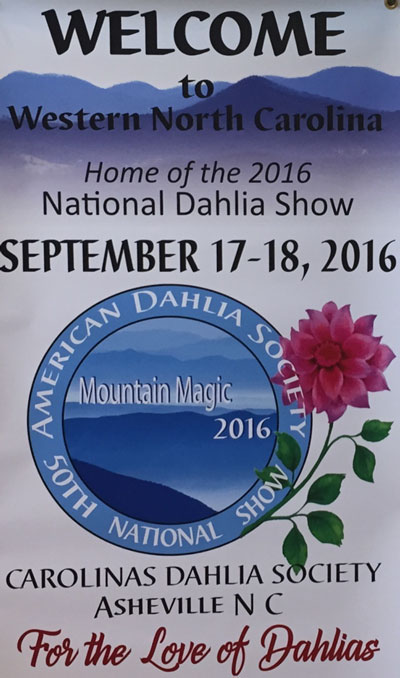 Cornell Master Gardener Program
The Master Gardener Program (redesigned to be more friendly to people who work) is available through Cornell Cooperative Extension of Suffolk. The classes start in Feb 2016 and the application is online at http://ccesuffolk.org

MEMBER NEWS
My Dahlia Story, by Holly Sisti
My introduction to working outdoors began as a teen cutting grass, edging with those long scissors, trimming trees and bushes. For years I have been a perennial grower, after all nothing could be easier. When spring arrives so do all the flowers and they multiply by themselves. There were Poppies, Astilbe, Asiatic Lilies, Bearded iris, and Gladiolas in a wide assortment of colors. I always stayed away from any plants that had to be lifted. I had what I refer to as a "lazy man's" garden. I really enjoyed sitting outside and watching my garden bloom until August. By then everything was finished , now what? Wait for the leaves to change?
Then I read about the Long Island Dahlia Society. I took a trip to the William Wolkoff Dahlia Garden and they still had flowers blooming in October! They came in an artist pallet of colors that were absolutely spectacular. I know my philosophy was not to plant anything I had to lift…but this was definitely an exception! I started going down to the garden on Saturdays and there I was with the rest of the volunteers digging, washing, brushing , sorting, and labeling tubers. This didn't seem like work at all , it was more of a social gathering sharing stories and experiences growing dahlias. Nothing could have been better...I found my "Happy Place."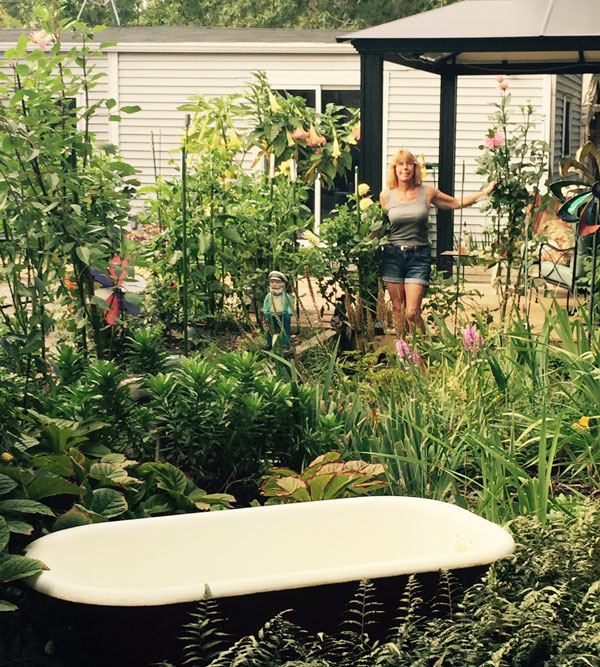 Above: Holly in her "Happy Place"

Resource Links
Bayard Cutting Arboretum Horticultural Society

Executive Board
President - John Canzoneri
Vice-President - Ted Gollatz
Board Member - Maureen Buford
Treasurer - Joe Lysik
Newsletter Editor - Carol Jansch
Recording Secretary - Dee Cunningham
Corresponding Secretary - Millie Canzoneri
Hospitality - Patrick Schildt
Membership - Millie Canzoneri
Fundraising Chair - Kelly Abercrombie
Fundraising Co-Chair: Debbie Gangone
Corresponding Secretary/Newsletter - Carol Jansch
Garden Director - Joe Lysik
Associate Garden Directors -
John Canzoneri, Ted Gollatz, Gene Murtha, Mike Kehl, Lenny Nicolosi, Holly Sisti
NADC Representatives - Joe Laundrie / Ted Gollatz
ADS Representative - William Bushman
Show Chairteam - Joe Laundrie, Lenny Nicolosi, Joe Bonomo
Evaluation - Dennis Kirchner
Wolkoff Dahlia Garden Design - William Wolkoff