Bayard Cutting Horticulture Society Meeting
Saturday March 12, 2016
Upper Carriage House - 1:00 p.m.
The Pros and Cons of GMO's (Genectically Modified Organisms in our food): A Panel Discussion with Stuart Brown (NYU), Meg McGrath (Cornell),and Danielle Zanzarov (SouthBay Wellness)

March Membership Meeting
Thursday, March 17, 2016
6:30 PM
East Islip Public Library
Dahlia 101 "Planning Your Dahlia Garden"
Plus this special event!
Saint Patrick's Day "Irish Soda Bread Contest" -
our first bake-off! Bring your best! Blind tasting.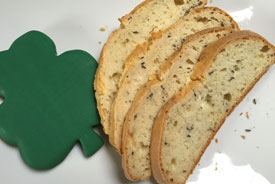 Contest is open to all LIDS members
Grand Prize - one year, total bragging rights to the
"LIDS Best Irish Soda Bread", in effect until March 16, 2017.
Rules
1. Bring your own homemade Irish Soda Bread, cut up in advance for the tasting.
2. Conceal your entry in a brown paper bag.
3. Turn your entry over to the moderator (Carol)
4. Your entry will be assigned an entry number.
5. Members will do a blind taste test and then vote by secret ballot.
6. No butter during the taste test, after is fine. (thank you Ted)
7. One vote per person.
Jig
If anyone would like to do the Irish jig as a closing act, we will clear space for you.
Irish quiz
Who said this? "I am who I am: an Irish Catholic kid, working class from Long Island. And I made it big."

Annual Spring Luncheon and Cup Auction
Save the date!
Sunday, April 3, 2016
Irish Coffee Pub - 12:00 p.m. - 4:00 p.m.

April Membership Meeting
Thursday, April 21, 2016
6:30 PM
East Islip Public Library
Tuber Sale - No Dahlia 101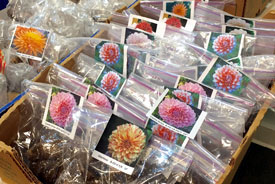 What's Happening at the Bayard Cutting Arboretum?
Events at the Bayard Cutting Arboretum
Bayard Cutting Arboretum Horticultural Society Events
The Community Supported Agriculture (CSA) Farm at Bayard Cutting Arboretum

Executive Board
Founder and Garden Designer - William Wolkoff
President - John Canzoneri
Vice President - Ted Gollatz
Treasurer - Joe Lysik
Corresponding Secretary - Carol Jansch
Recording Secretary - Dee Cunningham
Garden Director - Joe Lysik
Membership - Millie Canzoneri
Associate Garden Directors - Ted Gollatz, Gene Murtha, Mike Kehl, Lenny NicolosI, Holly Sisti
Fundraising Chair - Kelly Abercrombie
Hospitality Chair - Patrick Schildt
ADS Chair - William Bushman
Evaluation / Classification Chair - Dennis Kirshner
NADC Chairs - Ted Gollatz, Tom Gangone
Show Chair Team - Lenny Nicolosi, Joe Bonomo, Joe Laudrie
Education - Joe Lysik
Publicity - Debbie Gangone
Website / Newsletter - Carol Jansch
BCA and LIDS Liaison - Maureen Burford
Good & Welfare - Dennis Kirshner

Resource Links