July Membership Meeting
Thursday, July 21, 2016
6:30 PM
East Islip Library
Dahlia 101 "Growing and Showing Dahlias"
Sign-up sheet for the Summer Picnic

Feel Better Patrick!
LIDS members wish our Hospitality Chair a speedy recovery. Pat was in the hospital and should be home soon. Get well Pat!

LIDS Website
Did you know our website has our calendar, important dahlia news and links? Check it out for the latest in dahlia news!

Wolkoff Dahlia Garden News
All the dahlias have been planted and the garden is being carefully checked to make sure it stays in great shape. Volunteers are needed to tend to the beds with weeding, tying up the dahlias, and general care. Come on down and help out, any time you can provide is appreciated!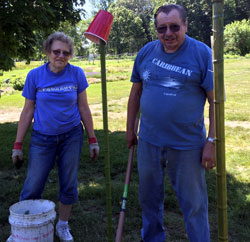 Summer Picnic
Saturday, August 6 - 12:00 Noon
Rain date Sunday, August 7
Picnic location - next to the Wolkoff Garden
The LIDS Annual Picnic is held every summer next to the Wolkoff Garden, under the big maple tree. This is a wonderful way for our volunteers to wander through the garden which is in full bloom, relax with your guests and enjoy good food. Please bring a covered dish, dessert, or salad to share (for about six people) and folding chairs.
Please coordinate with Patrick to make sure we will have a sufficient number of main dishes and so that they can all be set out before lunch is served. (A sign up sheet will be available at the July meeting)
Sternos and all condiments, paper products, and soft drinks will be provided. Contact Patrick Schildt with questions.)

Picnic Parking
When parking the Wolkoff Garden, please be considerate of members who will be unloading food and also those of us those with limited mobility. It is no longer permissible to park along the park road; there is ample head in parking, in the grass, starting at the end of the chicken houses.

Picnic Raffle Table!
Members who have garden produce, jam, flowers, plants, or homemade items or any garden related item you would like to share, please bring it for the picnic
raffle table.

Dahlia Walk with the BCAHS
Wednesday, August 17
6:30 PM
Wolkoff Garden
LIDS welcomes the Bayard Cutting Arboretum Horticultural Society to the Wolkoff Garden for a tour of the dahlias. LIDS members are encouraged enjoy the evening and share your knowledge of dahlias.
Light refreshments served.

Fundraising
As we prepare for our upcoming shows, we are looking for vases of any and all sizes. Big, small, clear, any color vase is appreciated. They can be left in the barn anytime it is open.

Fall Harvest Festival - Mugs/Tea Cups Needed
For the fall Harvest Festival, we are looking for mugs or tea cups for garden visitors to create flower arrangements. This is a very popular event so if you have any mugs or tea cups to donate, please bring these to the barn as well.

2016 Photo Contest - "Dahlias Through the Camera's Lens"
The brochure and registration package have been posted and are available for download from the LIDS website. The Photo Contest will be held during our first show, over Labor Day Weekend.

How to Take Great Dahlia Photos
by Dee Cunningham
The dahlias are beginning to bloom and that means many opportunities to take beautiful photographs to enter into our Photo Show this September!! The brochure and registration form are available for download our website. We look forward to your interpretations of the dahlia, so get your cameras ready! You don't need a fancy camera and expensive equipment. Often, Point and Shoot cameras produce fantastic photos.
The following are some basic tips to taking pictures:
Know your camera and how it responds to different weather conditions, such as sun, shade, overcast, misty rain, time of day. Reading the manual often helps.
Make sure your lens is clean. Spots or dust on the lens can effect the quality of your photo.
See where the light is coming from. Keep the sun to the side of you and check in your lens to see if shadows are on your bloom.
If taking pictures in a garden with poles, avoid including the pole in your photo.
Best time of the day to take pictures is usually early morning or early dusk, but take advantage of anytime of the day you see a great photo opportunity.
Notice the background of your subject. Too much going on behind your dahlia can distract from your photo. Fill the frame with your bloom.
Shoot many, many pictures. Then you can choose the best one but take your time. Also, the more pictures you take, the better you will get.
Keep a camera with you whenever you know you will be seeing dahlias. You won't miss some great blooms this way!
Instead of shooting a photo standing up, change your position to a crouch or even lie down to get a different perspective.
Keep your elbows at your side to get a more stable photo.

LIDS Calendar Revised
The LIDS Calendar has been revised, please view and/or
download the calendar from our website.

Open Position - Help Wanted Newsletter
LIDS is seeking a creative person for our monthly newsletter. This is a fun position that entails gathering general information about LIDS events and dahlia information, it is closely geared to the events in our calendar and content from previous newsletters is readily available. This position provides you with a wide range of opportunities to learn about dahlias through the season and interact with members. We have a great group of volunteers; would you like to be a bit more involved? If yes, please reach out to me and we can discuss. - Thank you, Carol Jansch, LIDS Editor for the Newsletter & Website

Year Round
2016 Saturday Mornings at the William Wolkoff Garden
Each Saturday during the dahlia season our volunteers meet at 9:00 a.m. at the William Wolkoff Dahlia Garden in Bayard Cutting Arboretum.
Under the leadership of the Garden Director Joe Lysik, our volunteers support the garden by preparing the tubers for planting, maintaining the garden during the bloom times, through the digging up the tubers at the end of season, this is a hands-on learning experience, all are welcome.
Work in the garden is followed by coffee and cake at 11:00 a.m.

What's Happening at the Bayard Cutting Arboretum?
Events at the Bayard Cutting Arboretum
Bayard Cutting Arboretum Horticultural Society Events
The Community Supported Agriculture (CSA) Farm at Bayard Cutting Arboretum

Executive Board
Founder and Garden Designer - William Wolkoff
President - John Canzoneri
Vice President - Ted Gollatz
Treasurer - Joe Lysik
Corresponding Secretary - Carol Jansch
Recording Secretary - Dee Cunningham
Garden Director - Joe Lysik
Membership - Millie Canzoneri
Associate Garden Directors - Ted Gollatz, Gene Murtha, Mike Kehl, Lenny NicolosI, Holly Sisti
Fundraising Chair - Kelly Abercrombie
Hospitality Chair - Patrick Schildt
ADS Chair - William Bushman
Evaluation / Classification Chair - Dennis Kirshner
NADC Chairs - Ted Gollatz, Tom Gangone
Show Chair Team - Lenny Nicolosi, Joe Bonomo, Joe Laudrie
Education - Joe Lysik
Publicity - Joe Lysik
Website / Newsletter - Carol Jansch
BCA and LIDS Liaison - Maureen Burford
Good & Welfare - Dennis Kirshner

Resource Links