2019 Photography Contest
2020 Information will be available in August
"Dahlias Through the Camera's Lens"
The registration package has been posted and is available for download.
Our Photo Contest will be held during our second show on Saturday, October 5 and Sunday, October 6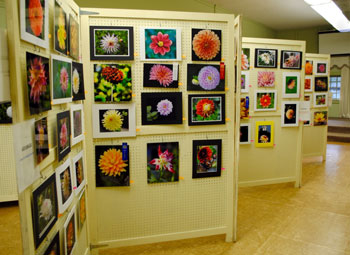 Download Photo Show Brochure/Registration in

PDF or

Word
---
How to Take Great Dahlia Photos
by Dee Cunningham
The dahlias are beginning to bloom and that means many opportunities to take beautiful photographs to enter into our Photo Show this October! The brochure and registration form are available for download our website. We look forward to your interpretations of the dahlia, so get your cameras ready! You don't need a fancy camera and expensive equipment. Often, Point and Shoot cameras produce fantastic photos.
The following are some basic tips to taking pictures:
Know your camera and how it responds to different weather conditions, such as sun, shade, overcast, misty rain, time of day. Reading the manual often helps.
Make sure your lens is clean. Spots or dust on the lens can effect the quality of your photo.
See where the light is coming from. Keep the sun to the side of you and check in your lens to see if shadows are on your bloom.
If taking pictures in a garden with poles, avoid including the pole in your photo.
Best time of the day to take pictures is usually early morning or early dusk, but take advantage of anytime of the day you see a great photo opportunity.
Notice the background of your subject. Too much going on behind your dahlia can distract from your photo. Fill the frame with your bloom.
Shoot many, many pictures. Then you can choose the best one but take your time. Also, the more pictures you take, the better you will get.
Keep a camera with you whenever you know you will be seeing dahlias. You won't miss some great blooms this way!
Instead of shooting a photo standing up, change your position to a crouch or even lie down to get a different perspective.
Keep your elbows at your side to get a more stable photo.
---